Jane's Recipes
My recipes are all original. Every one! Food should bring you energy, clarity and JOY! Perhaps my biggest discovery is how to make sweets that don't elevate blood sugar or cause weight gain. We believe desserts are BAD for us (and most of them are)! However sweets can be HEALTHY! In an epidemic of sugar-related diseases like diabetes, heart disease and cancer, THIS is the solution: Use low-carb, original, unprocessed ingredients. There's no need for deprivation. Here are some of my recipes. Try them and send me your comments!  Jane
This colorful luscious stir-fry will blow you away! It's easy to make, with a delicate Asian flavor, and is one of my most flexible recipes. If you prep the veggies ahead of time, this is a 10-minute meal. Meat is optional. It tastes wonderful with Nutty Cauliflower Rice. Cruciferous veggies will make you strong! This family includes Broccoli, Cauliflower, Bok choy, 
Read More
A fabulicious side dish to enjoy with stir-fries, veggies, or meats, this cauliflower rice is tasty and low in carbs so it won't go to your waistline. It has a rich, satisfying flavor, something like Jamaican rice, except it is milder and nightshade-free. Hooray! It takes just 5 minutes to make, far quicker than rice, and much healthier. It tastes especially delicious with Cruciferous Veggie Stir-fry!
Read More
Authentic rugelach is irresistible, crispy cream cheese dough rolled with nuts and jam. Rugelach means "rolled bites" or "little twists" in Yiddish. This Paleo version is every bit as tempting, but free of grains and dairy, with coconut and lemon instead of cream cheese. Heads up, this is a non-traditional recipe, with a surprisingly delectable flavor and texture. 
Read More
Everybody loves a slushy when it's hot outside! Blend them in just 5 minutes with whole fruit, which is WAY healthier than juice! Store-bought fruit juices are heat processed, stripped of fiber, acidifying, glycemic, tasteless, and low in nutrients. These thick slushies use whole fruit including fiber, blended all together with ice. 
Read More
Everyone deserves brownies! These babies are especially for folks who don't do dairy or eggs. They're high in real food flavor, and ALL my taste-testers give them rave reviews. The secret to the rich taste and chewy texture of these grain-free flourless brownies is avocado, sweet potato, apple, and chia seeds, which help to bind the bars together. 
Read More
Whether it's breakfast, lunch or dinner, this super-easy favorite is satisfying and highly nutritious. The key to scrumptious flavor and off the charts nutrition is your BROTH! Most Asian restaurants use chemical broths, GMO-fed meat, and rice noodles, all low in nutrients. However this recipe is 100% real food, non-GMO, and grain-free! 
Zoodles
 are zucchini noodles, 
Read More
Whenever I find good quality wild salmon, I make these delectable cakes! They're easy to prepare and super-tasty for breakfast, lunch or dinner, loaded with protein and omega-3 nutrition. You can make them with other wild fish such as sea bass, halibut, or true cod. I sometimes bake them in the oven, however if you're in a hurry they cook faster 
Read More
OK, I confess, I've been doing raw milkshakes every day for several months, and guess what? My aches and pains are gone, I feel more energy, my skin spots have vanished, I sleep better. If you've never tasted the flavor of raw milk, you're in for a treat! Smooth, creamy, sweet, life-giving, deeply nutritious, and satisfying - subtly different from pasteurized milk.
Read More
This healthy breakfast-in-a-glass consists of bananas and nuts piled up together with an easy chocolate ganache. It's super quick to stir together, pile up in a glass and eat! Non-glycemic sweetener won't spike blood sugar or cause weight gain. Almonds are high in protein and fiber. Unsweetened chocolate contains anti-oxidants and theobromine, 
Read More
Tzatziki is refreshing, easy to make, and deeeelicious! A traditional Greek dish, this Paleo vegan recipe is made with coconut cream instead of yogurt. Just blend the sauce and pour over cucumber. It's also loaded with nutritious superfoods, like hemp nuts high in Omega 3's and all 20 amino acids! 
Read More
My favorite 5-minute breakfast is a refreshing lemon coconut mousse layered with berries and nuts. Your yummilicious nourishing meal can be ready in moments! Powerful antioxidants in berries such as anthocyanins, quercetin, and vitamin C help to reduce inflammation and oxidative stress caused by free radicals. Almonds are an important source of
Read More
Tired of boring pasta? Try making zoodles with a quick spiralizer. Blend No-Peanut Sauce and enjoy your meal in 15 minutes. Spicy No-Peanut Sauce is made from almonds, sunbutter, and/or cashews. Better than peanuts which often contain mold, this yummy sauce is also free of glycemic sugars and nightshades. 
Read More
How can the easiest and tastiest barbecue also be the healthiest? Superfoods and adaptogens spark your body alive with flavor! Spicy, exotic adaptogenic herbs help dissolve stress. Oven baking eliminates free radicals in grilling, which hang around in the body 
Read More
Refreshing and alkalinizing, this tangle of multicolored vegetables - turnip, radishes, golden beet and carrots - is tossed with basil, pumpkin seeds and a lemon-dill dressing. Since the veggies are raw, they need to be sliced very thin with a sharp knife or a peeler. This makes a gorgeous colorful salad any time
Read More
This luscious summertime dessert is no-bake, dairy-free, vegan, and Paleo, without sugar or GMO's. Even better, it won't spike blood sugar or cause weight gain if you use the suggested non-glycemic sweetener. The perfect cream cheese flavor comes from blended coconut butter and lemon. 
Read More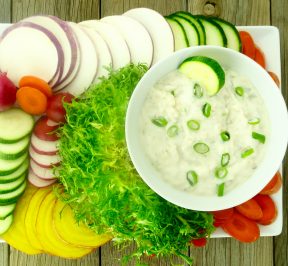 French Onion Dip is quick, tasty and healthy! Why'd we ever need a mix? Dairy-free so it won't go bad on a warm day, the secret to its tantalizing flavor is dehydrated onion, found in the bulk section of most groceries or online. Premium coconut milk makes it thick and creamy. Organic miso paste makes it flavorful, alive, and GMO-free. 
Read More
I was feeling worn out this afternoon - almost reached for the sugar and chocolate. Uh Oh! This invigorating, creamy milkshake saved the day! Matcha green tea powder is a potent superfood with polyphenols and anti-oxidant catechins that improve brain function, bring mental clarity, and boost your entire immune system. Well, I feel great now! Top quality Ceremonial Grade Matcha, will be the least bitter. Culinary Matcha is also excellent.
Read More
Tangy honey-mustard chicken wings are a perfect irresistible snack, hot & spicy with an exotic twist. How about a zesty superfood glaze with turmeric and goji berries? Oh yeah! This tasty sauce will rev your engines! Turmeric is a powerful anti-inflammatory,
Read More
These classic English Muffins are so easy and authentic, you'll want to make them - and eat them - every day! They look just like store-bought muffins - dense, fluffy, and white. Except they're super healthy, low in carbs, gluten-free, grain-free, GMO-free, and won't cause blood sugar spike or weight gain. Their main ingredients are coconut butter and eggs! The flavor is mild
Read More
Heavenly and sublime, Brazil nuts make a super-easy crust for any raw dessert. This crust is perfect for Coconut Mango Goji Berry Cheesecake, Matcha Maca Green Tea Superfood Bars, Black Forest Chocolate Cherry Cheesecake, Chocolate Cashew Swirl Fudge, Avocado Key Lime Bars,
Read More
All content and recipes in this website are Copyright © Jane Barthelemy and Jane's Healthy Kitchen™ 2015.

You are free to use photos or recipes from janeshealthykitchen.com under these conditions: You must credit the photo or recipe to janeshealthykitchen.com
and place the credit under it with this text: courtesy of janeshealthykitchen.com, linking back to janeshealthykitchen.com.
Join Our Transformational Food
& Healthy Lifestyle Movement!
Sign Up for Weekly Emails.
Be the first to know about the newest discoveries in health and medicine,
mouth-watering original recipes, and receive my free recipe e-book:
Energize your Salads!