Jane's Recipes
My recipes are all original. Every one! Food should bring you energy, clarity and JOY! Perhaps my biggest discovery is how to make sweets that don't elevate blood sugar or cause weight gain. We believe desserts are BAD for us (and most of them are)! However sweets can be HEALTHY! In an epidemic of sugar-related diseases like diabetes, heart disease and cancer, THIS is the solution: Use low-carb, original, unprocessed ingredients. There's no need for deprivation. Here are some of my recipes. Try them and send me your comments!  Jane
Refreshing and alkalinizing, this tangle of multicolored vegetables - turnip, radishes, golden beet and carrots - is tossed with basil, pumpkin seeds and a lemon-dill dressing. Since the veggies are raw, they need to be sliced very thin with a sharp knife or a peeler. This makes a gorgeous colorful salad any time
Read More
This luscious summertime dessert is no-bake, dairy-free, vegan, and Paleo, without sugar or GMO's. Even better, it won't spike blood sugar or cause weight gain if you use the suggested non-glycemic sweetener. The perfect cream cheese flavor comes from blended coconut butter and lemon. 
Read More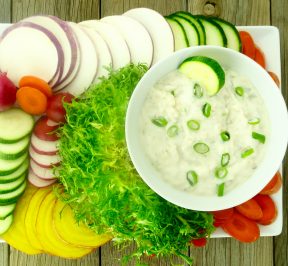 French Onion Dip is quick, tasty and healthy! Why'd we ever need a mix? Dairy-free so it won't go bad on a warm day, the secret to its tantalizing flavor is dehydrated onion, found in the bulk section of most groceries or online. Premium coconut milk makes it thick and creamy. Organic miso paste makes it flavorful, alive, and GMO-free. 
Read More
I was feeling worn out this afternoon - almost reached for the sugar and chocolate. Uh Oh! This invigorating, creamy milkshake saved the day! Matcha green tea powder is a potent superfood with polyphenols and anti-oxidant catechins that improve brain function, bring mental clarity, and boost your entire immune system. Well, I feel great now! Top quality Ceremonial Grade Matcha, will be the least bitter. Culinary Matcha is also excellent.
Read More
Tangy honey-mustard chicken wings are a perfect irresistible snack, hot & spicy with an exotic twist. How about a zesty superfood glaze with turmeric and goji berries? Oh yeah! This tasty sauce will rev your engines! Turmeric is a powerful anti-inflammatory,
Read More
These classic English Muffins are so easy and authentic, you'll want to make them - and eat them - every day! They look just like store-bought muffins - dense, fluffy, and white. Except they're super healthy, low in carbs, gluten-free, grain-free, GMO-free, and won't cause blood sugar spike or weight gain. Their main ingredients are coconut butter and eggs! The flavor is mild
Read More
Heavenly and sublime, Brazil nuts make a super-easy crust for any raw dessert. This crust is perfect for Coconut Mango Goji Berry Cheesecake, Matcha Maca Green Tea Superfood Bars, Black Forest Chocolate Cherry Cheesecake, Chocolate Cashew Swirl Fudge, Avocado Key Lime Bars,
Read More
These luscious bars came to me in a dream. A fantasy in warm red raspberry-rhubarb filling oozing out of a rich, crumbly cinnamon shortbread, with refreshing sweet goji berries. And they came out just like I imagined! Guilt-free superfood bars, low-carb and tantalizing. Goji berries are higher in protein than any other fruit, 
Read More
Matcha green tea powder is a potent superfood with 137 times more antioxidants than brewed green tea. Matcha's antioxidants are called catechins, which are powerful disease-busters that exist in no other food. Avocado makes these bars rich and creamy. Coconut butter makes them totally irresistible! 
Read More
Delicious and easy, super-chocolaty, chewy brownies, are filled with mango chunks and nuts. Yep, they're a tantalizing flavor combo with chocolate, mango, and avocado in every bite! These babies are Paleo, free of gluten, grains, dairy, flour, GMO's, and sugar. They won't even spike your blood sugar or cause weight gain if you use the suggested non-glycemic sweetener. Hooray!
Read More
By Jane Barthelemy. Can the Paleo Diet and the ancient Chinese calendar hold the secrets to weight control? General guidelines for human health were encoded in our DNA thousands of years ago. Chinese texts describe the ideal method to optimize health, by harmonizing with Nature's cycles. Using the Paleo Diet together with the Chinese 24-hour meridian clock, can help you to not only lose
Read More
Paleo - Vegan cauliflower risotto? I have a huge passion for Italian food, and I LOVE saffron. This risotto tastes almost exactly like the authentic Risotto alla Milanese I love in Italy, except it's much quicker to make. You don't have to stand over a hot stove stirring for 20 minutes. Cauliflower rice is an easy low-carb dish that's easier to digest than traditional risotto. 
Read More
What makes this French toast so amazing? It's the bread you choose! If you have four slices of bread, then French toast is the quickest and easiest breakfast around. My favorite is
Paleo Fluffy White Bread
. Or try 
Cinnamon Swirl Bread
 in my book
Good Morning Paleo
. Both are easy, high-protein, and nutrient-dense. Serve French toast with 
Paleo Caramel Sauce
or 
Berrylicious Sauce
 or 
Read More
By Jane Barthelemy. So, is coffee Paleo? Well, the correct answer is NO. Even wishful thinking won't put it in the Paleo era. The bullet-proof truth is that coffee was first cultivated in Ethiopia c. 900 years after Christ, roughly 10,000 years after the Paleo period. One of today's most profitable and addictive habits, coffee was actually banned in Mecca in the 1500's as intoxicating and inciting radical thinking! But royal intervention changed all that, and soon coffee spread 
Read More
Quick to blend, this creamy vegan mayo is healthier and tastier than oil based store-bought mayonnaise. You'll want to spread it on everything! It's non-GMO, Paleo, low-fat, with no stabilizers, canola, trans-fats, or sugar. And it tastes fabulicious. Cashews make a wonderfully smooth base for mayo. And cashews are low in fat compared to other nuts. Yay!
Read More
Three layers of incredible flavor, I think I just died and went to heaven. Rich cacao with Paleo Orange Buttercream Frosting and Raspberry Sauce is deeply satisfying, titillating, and refreshing all at the same time. Avocado and apple make the cake incredibly moist so it melts in your mouth. Cinnamon, coffee, and hot pepper give it an ¡Ay caramba! Latino flavor. Everybody loves this cake and never guess it is Paleo,
Read More
This is the easiest and creamiest frosting you'll ever make. No cooking, no thickeners, just five ingredients whipped in the food processor, and it is delicious beyond words. A favorite frosting for my Mexican Chocolate Birthday Cake, it also tastes yummy on Paleo Carrot Muffins. The secret to its creamy texture is pure coconut
Read More
This is the simplest and quickest power-breakfast or snack you can make. Chia seeds are a perfectly balanced superfood, high in protein, omega-3 fatty acids, and fiber. In fact, "chia" means "strength" in the Mayan language. Chia tapioca tastes yummy 
Read More
Today I was craving a healthy melt-in-my-mouth treat! These bite-size Paleo cookies are absolutely irresistible, with chocolate chips, spices, and a hint of orange zest. Great for the holidays or anytime of year, they're nutrient-dense, free of gluten, grains, GMO's, and dairy. They won't cause a blood sugar spike or weight gain 
Read More
These scones make a high-protein, nutrient-dense breakfast, dessert, or snack. Finally after 6 trials, I discovered how to make them irresistibly soft and moist. I found that frozen butter gives them a flaky texture and authentic old-world flavor. 
Read More
All content and recipes in this website are Copyright © Jane Barthelemy and Jane's Healthy Kitchen™ 2015.

You are free to use photos or recipes from janeshealthykitchen.com under these conditions: You must credit the photo or recipe to janeshealthykitchen.com
and place the credit under it with this text: courtesy of janeshealthykitchen.com, linking back to janeshealthykitchen.com.
Join Our Transformational Food
& Healthy Lifestyle Movement!
Sign Up for Weekly Emails.
Be the first to know about the newest discoveries in health and medicine,
mouth-watering original recipes, and receive my free recipe e-book:
Energize your Salads!