Here's your 5-minute lunch in a kale or chard leaf! My favorite Thai appetizer is called Mieng Kum, a symphony of flavors that tantalize the taste buds. Every known flavor is hidden in each bite: sweet, pungent, sour, salty, and spicy. Easy to prepare, this Paleo version makes a healthy lunch or snack. Vary the recipe according to your taste, your diet, and ingredients you have on hand. The basic idea is to wrap foods in a leaf, with an amazing Asian sauce.
If you order this in a Thai restaurant, the sauce is likely loaded with refined sugar and corn syrup. However this easy blended sauce uses your choice of healthy Paleo sweeteners, hopefully to give your blood sugar a break. I used wild fish and almonds, however you can make your version vegan, tree-nut free, and nightshade-free, since the meat, nuts, and peppers are all optional. The exotic spices are easy to find – I got them at Whole Foods Market. You can wrap with collard greens, chard, kale, or lettuce leaves. I prefer the tender and slightly sturdier collard greens if you have them. You can even make this lunch to-go by putting the filling and sauce in a container, and packing the leaves separately so they don't get soggy. Then wrap it as you eat. Serves 2.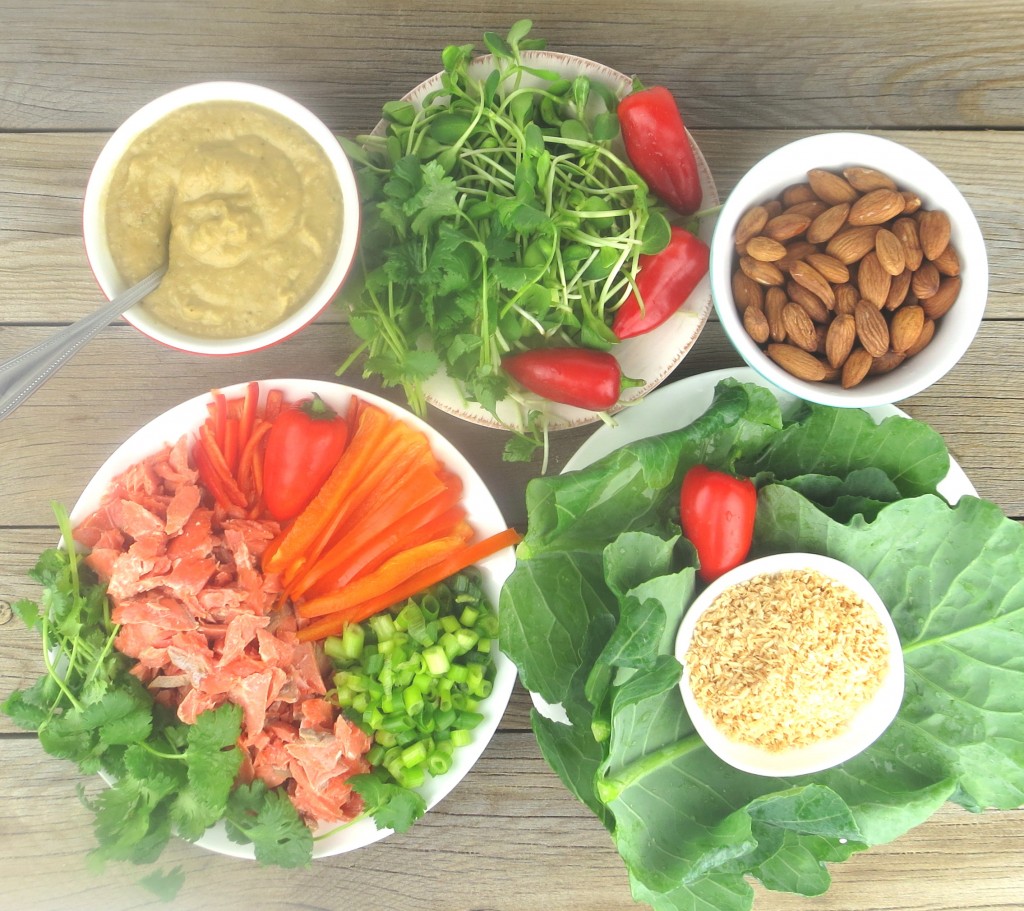 Clockwise from lower left: cilantro, wild salmon, green onions, sliced bell pepper, Spicy Asian Sauce, sprouts, red bell peppers, toasted almonds, collard greens, toasted coconut flakes.
Ingredients
For the Wrap:

1/4 cup shredded unsweetened coconut flakes, toasted
1/2 pound wild fish such as salmon or halibut (meat is optional)
1/4 cup almonds, soaked and toasted if possible, see All About Nuts, optional
2 green onions, green part only, sliced
1/2 grated carrot, or 1 red bell pepper, finely sliced
1 cup sprouts of any kind (I used sunflower sprouts)
4 leaves collard greens or chard leaves to wrap
Garnish with plenty of fresh basil, cilantro, mint, or parsley

Spicy Asian Sauce

1 Granny Smith apple, in chunks
1/2 inch fresh ginger root, diced
1 lime peeled and cut in chunks, or 2 tablespoons lime juice
1 large clove garlic
1/4 teaspoon unprocessed salt
2 green onions, white part only, sliced
Sweeten to taste with 4 teaspoons Just Like Sugar Table Top natural chicory root sweetener, 3/4 teaspoon PureLo Lo Han Sweetener by Swanson, or 1 tablespoon raw honey, or your favorite sweetener.
3 tablespoons raw cashews or coconut butter

Optional Sauce Ingredients to send it right over the top!

2 teaspoons Red Boat Fish Sauce (Find it at Whole Foods Market)
2 slices fresh Thai ginger, diced, or dry galangal root, soaked 10 minutes in hot water
2 dried Kaffir lime leaves, soaked 10 minutes in hot water
1 teaspoon toasted sesame oil
1 tablespoon liquid coconut aminos
1/4 teaspoon tamarind paste or apple cider vinegar
Instructions
For the Wrap:

To toast the coconut, preheat oven to 350 degrees F. In a small baking dish, toast the coconut for about 8 minutes, keeping an eye on it, as it burns easily. When it barely begins to turn golden remove from oven immediately. Place in a small serving bowl.
To cook the fish, place fillet in a shallow pan with 1/4-inch filtered water over medium high heat. Bring water to a boil, cover, and turn the heat down very low to steam the fish 2-4 minutes depending on the thickness. When the salmon turns light, or the fish is a bit flaky, remove from heat. Allow it to cool, remove skin and bones, and cut into bite-sized pieces.
Prep the veggies and put them in serving dishes, if you like to assemble wraps at the table.

Spicy Asian Sauce:

Place all sauce ingredients in a small blender or food processor. Process until thick and creamy. Don't worry if you don't have the optional ingredients. It will be great all the same. Pour sauce into a serving bowl.

Assemble Wraps:

Start with a big collard leaf. Put your fillings on top and spoon lots of sauce on it. Wrap it up and enjoy!
©Copyright Jane Barthelemy 2012