On a recent trip to the Himalayas, I was captivated by the rich, nutty flavor of Bhutanese red rice. Since rice is a "grain", some folks might say this recipe is not Paleo. However, I beg to differ. Strong evidence has emerged that our ancestors ate rice for milleniums, which eventually led to cultivating the grains. It seems Paleolithic humans were grinding grains some 32,000 years ago. This evidence comes out years after the "Paleo Diet" was coined. Whew! Maybe now we can relax, and simply eat unprocessed foods. 
Unprocessed red rice is dark red in color. It can be polished, and then the color is light pink, however you'll lose most of the nutrients. Soaking 8-24 hours is preferable as it improves digestibility and reduces cooking time. Sprouting is super-healthy! It increases protein content and brings the carb level down. Sprout whole grain rice as you would any other seed – rice takes about 24 hours. Hulled rice such as white rice will not sprout – it's basically a nutritionally empty food. Ha Ha! This nutritious recipe will serve a gathering of 12, or freeze it in 4 serving-size containers for a fabulicious breakfast treat.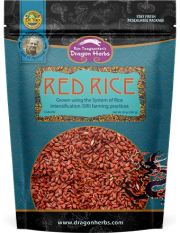 My favorite source is Heirloom Red Rice from Dragon Herbs. It's a deep dark red color.
Bhutanese Red Rice has been grown for thousands of years at 8,000 feet in the fertile soil of the Paro Valley, irrigated by a 1,000 year-old glacier rich in trace minerals. Unpolished red rice is dark red in color.
Processed red rice is sold in the market in Thimphu Bhutan. Milling removes the dark red hull, along with many nutrients. This polished red rice is pinkish in color.

Red Rice Pilaf with Mushrooms
Ingredients
Cook the rice. Bring to a boil. Then turn down heat and simmer very low 45 minutes:

1 cup Bhutanese red rice, soaked 12-24 hours, or sprouted
2 1/2 cups filtered water
1/4 teaspoon unprocessed salt

Pilaf Mixture: In a very large skillet or wok, saute until soft and tasty:

1/4 cup coconut oil (or organic butter or ghee)
3 cloves garlic, crushed
1 1/2 inches ginger root, chopped
2 red onions, cut in strips
12 ounces shiitake mushrooms, trimmed and sliced
1 teaspoon ground cumin
1 teaspoon ground mustard seed
2 teaspoon ground turmeric
1/2 teaspoon unprocessed salt, or more to taste
2 green onions, sliced, to garnish

Assemble: Add cooked rice to the pilaf mixture. Stir over medium low heat. Season to taste and allow flavors to steam together. Sprinkle with green onion. Serve!
©Copyright Jane Barthelemy 2012
Interesting links:
https://www.npr.org/sections/thesalt/2015/09/14/440292003/paleo-people-were-making-flour-32-000-years-ago
http://spartandiet.org/blog/2013/6/3/sorry-paleo-people-grains-are-part-of-the-human-diet