Paleo Blueberry Pancakes with Berrylicious Sauce
Guilt-free Chocolate Truffles
Zoodles, No-Tomato Sauce & Coconut Parmesan Cheese
Chicken Adobo on Grain-free Tortillas
Paleo Eggs Benedict
Paleo Mini Quiches
Paleo Mexican Wedding Cakes
Follow Me
Transform Your Food, Transform Your Life!
Hello, I'm Jane, gluten-free, Paleo chef, author, health practitioner and guide in your journey to health and vitality. My view of Paleo is to nourish true wellness and balance, free of indigestion, weight gain, cravings, and moods. Here I share transformational lifestyle tips, new techniques, and luscious, original recipes for a new, vital way of living. Yay! You can do this!
SUBSCRIBE!
Receive a weekly email with free recipes and lifestyle tips.
When you subscribe, you'll get my new recipe e-book free: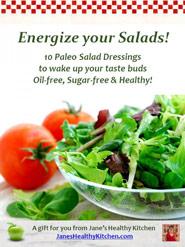 Testimonials
"Jane, Oh how I wish I had found your books and blog a few years ago when I went gluten-free, and gained 20 pounds from excess carbs. I've converted my kitchen so I can use your recipes every day and guess what? I'm still gluten-free, but now off all processed foods. I lost the extra pounds and feel so much better. There's no weight gain, no sugar spikes, and fantastic flavor. Thanks!" Ellie M.