Paleo Blueberry Pancakes with Berrylicious Sauce
Guilt-free Chocolate Truffles
Zoodles, No-Tomato Sauce & Coconut Parmesan Cheese
Chicken Adobo on Grain-free Tortillas
Paleo Eggs Benedict
Paleo Mini Quiches
Paleo Mexican Wedding Cakes
Follow Me
Transform Your Food, Transform Your Life!
Hello, I'm Jane, gluten-free, Paleo chef, author, health practitioner and guide in your journey to health and vitality. My view of Paleo is to nourish true wellness and balance, free of indigestion, weight gain, cravings, and moods. Here I share transformational lifestyle tips, new techniques, and luscious, original recipes for a new, vital way of living. Yay! You can do this!
SUBSCRIBE!
Receive a weekly email with free recipes and lifestyle tips.
When you subscribe, you'll get my new recipe e-book free: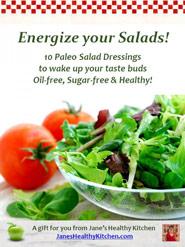 Testimonials
"Bless you precious Jane!! My hubby loves every recipe I make from your book Good Morning Paleo!!! I made your chocolate mug cake yesterday for him and instead of coconut cream topping I used coconut yogurt, thinned with coconut creamer, vanilla extract and natural PureLo Lo Han sweetener. He said it was his new favorite breakfast!!!" Kathy C.