Top ratings go to 1) Raw Honey, 2) PureLo by Swanson, 3) Swerve Sweetener, 4) Lakanto, and 5) Raw Stevia leaves, the only healthy sweeteners I can find. My criterion are purity, stable blood sugar, and balanced metabolism. With a world epidemic of diabetes, obesity, and metabolic disorder, we need sweeteners that stop the sugar cycle in it's tracks. Sadly, grocery stores do not carry healthy sweeteners, so we buy them online. We don't really need sweeteners, but some of us got used to a sugar fix. Keep an open mind to skip the whole concept of sweets!
1. Raw honey is the best Paleo sweetener. But very high glycemic! Use RARELY!
Honey is the food eaten by the young bees, and it's a superfood for humans too. Our Paleolithic ancestors took the risk to gather it from beehives seasonally. But – not every day! Honey is very high in carbs, calories, and sugar! Oooooh, it gives a nice big blood sugar spike! Most people do not tolerate the high glycemic levels in honey. Honey is about 50% fructose, 44% glucose, and 1% sucrose, which is pretty close to table sugar (see chart at bottom of page). For these reasons I reserve honey as a rare Paleo treat, and use it very infrequently. Honey is almost twice as sweet as sugar, so one would use 1/2 to 2/3 of the amount of sugar called for in a conventional recipe.
Conventional honey is often mixed with other glucose or fructose sweeteners. Look for PURE RAW ORGANIC HONEY.
2. PURELO – Lo Han Guo, everyday sweetener.
PureLo Lo Han Sweetener by Swanson is made from luo han guo, a sweet Chinese herb. It was raised by monks for centuries, so it is often called "monk fruit".  I trust PureLo by Swanson Vitamins, which is mixed with inulin powder and is approximately six times sweeter than sugar. It has a gratifying sweet flavor and no aftertaste. Even better, it has zero carbs, zero calories, and contains no sugars. After much research, I have not found a PURE source for 100% lo han guo.
Find PureLo online at swansonvitamins.com. Use 1/6 the amount of sugar called for in a conventional recipe.
3. Swerve Sweetener is a blend of erythritol, a naturally occurring fermented sweetener. Swerve is my favorite brand of erythritol because, unlike other brands, it is made from non-GMO vegetables and fruits. It has zero calories and does not affect blood sugar. Swerve sweetener works well in most baked goods. I find it does not always dissolve completely when chilled. It is used cup for cup like sugar.
Lakanto is a non-glycemic sweetener made from Erythritol and Monkfruit that you can buy online. Check it out here: 
5. Raw Unprocessed Stevia Leaves or Powder
One of the safest and least processed sweeteners available, pure stevia leaves, or pure green stevia powder are 35-40 times sweeter than sugar. For a delicious way to sweeten your tea, get a stevia plant, available as seeds or starters from stevianow.com. Unprocessed stevia has a lingering aftertaste some people don't like. Taste buds are very personal, however the flavor of stevia doesn't bother me at all. Buy organic raw stevia powder as Frontier brand from iherb.com. A 1-pound bag will last you a lifetime! Raw stevia is very different from chemically processed stevioside drops and powders we find in the grocery store. Unfortunately these are also called "stevia", however they are highly processed with chemicals such as formaldehyde, methyl alcohol, and 250-300 times sweeter than sugar. A proprietary refinement process was developed because the stevia leaf cell walls are so tough, they don't break with the usual methods of heating or centrifuging. These chemicals are not healthy. Stick with unprocessed stevia leaves, and stay away from processed stevia drops or powders, which are more akin to artificial sweeteners.
Pure stevia leaves are a wonderful Paleo sweetener. Avoid processed stevia drops or powders.
6. Just Like Sugar Table Top is currently unavailable. A natural chicory root sweetener measured cup for cup like sugar with zero-calories and zero-carbs, it does not affect blood sugar or insulin response. It gently sweetens everything without a sugar spike, or a drop soon after.
What's your favorite Paleo sweetener?
Experiment to find the sweetener that works for you. There's no sweetener that's right for everyone. Sugars are definitely not Paleo. And as a general rule, sugar is a metabolic scrambler in the body – sooner or later there's a price to pay in your health. Since I can't eat sugars of any kind, my body is a kind of litmus test for sweets. However it is possible to substitute any sweetener in my recipes, knowing that it may change the nutrition and carb profile.

Sweeteners I do not recommend:
I don't recommend maple syrup, coconut sugar, or agave nectar, as they aren't truly Paleo. They're processed, and boiled down to concentrate them so they're super-sweet. This makes them very high in fructose sugar, which carries the same health risks as high fructose corn syrup. If you follow the Paleo conventional wisdom that uses these sweeteners, you could be 100% Paleo and still be addicted to sweets – obese and diabetic. No way! I do not use xylitol because it has 66% the calories of table sugar, it raises blood sugar, causes gastric distress, and is toxic to dogs. I do not use refined stevia powders or liquids, as they're highly processed with chemicals.
Take a look at the chart below for a comparison of carbs in sweeteners. For more details, see my researched articles: What are the Best Paleo Sweeteners?, and 325 Sweeteners, Which is Best?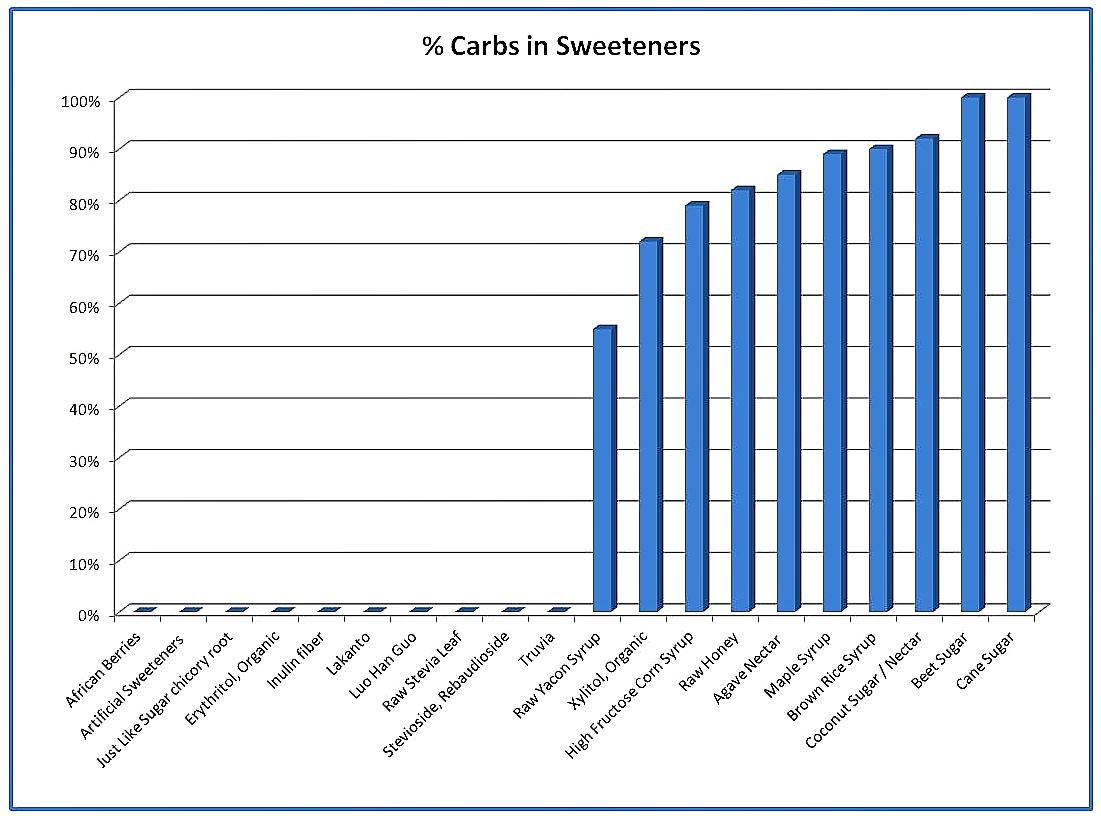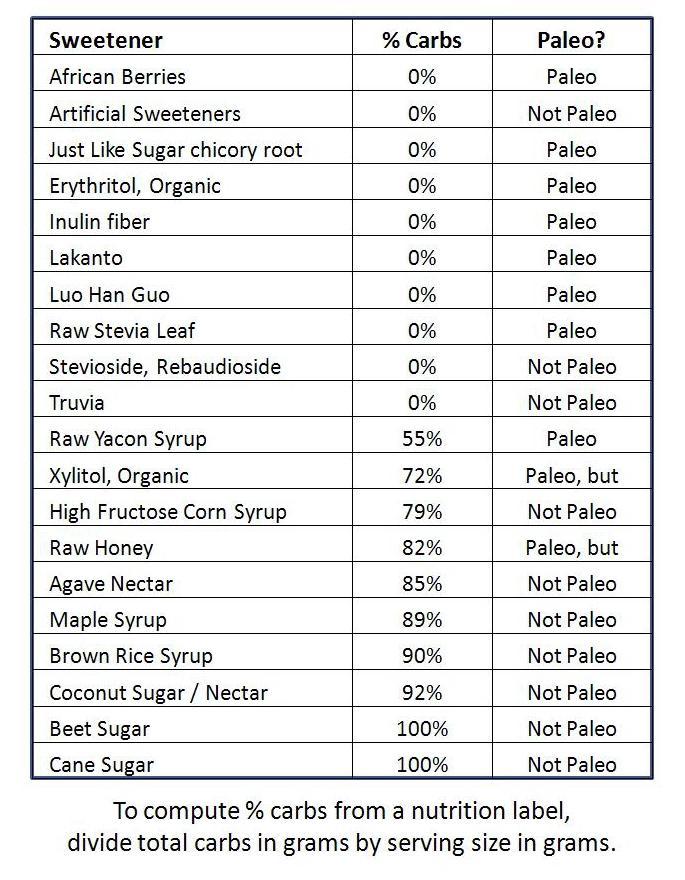 (This article is a brief executive summary.
For more details see my researched articles: What are the Best Paleo Sweeteners? and 325 Sweeteners, Which is Best?)