Wake-up your senses with these TEN superfood shakes! My Top 10 favorite easy smoothies will jump-start your day. Building our immunity takes time and patience. So today I'm giving you my secret stash of quick, nutritient-dense smoothies for a busy lifestyle. These recipes are flexible, so feel free to be creative and make any substitutions that inspire you.
BTW I suggest warm smoothies, not cold. An icy cold smoothie may be refreshing for a moment, but after swallowing, it's hard on your digestion. Yep. It's actually a SHOCK for your digestion to drink cold foods. Why is that? It turns out nutrient molecules in food are digested and metabolized in the body best at warm body temperature. Yes, even in the summer. That's why 98.6° F is the perfect temperature "sweet spot" to boost digestive efficiency. In smoothies, I use part hot liquid and part room-temperature liquid. So nothing gets burned, my blender doesn't melt, and I get to enjoy a lukewarm breakfast. This trick will improve your overall absorption level. Your body will thank you for warm foods and beverages instead of cold, so you can fully absorb them and receive ALL the benefits.
Yep, it's a body cleanse in a glass! After drinking one of these, I'm ready for the day. Deliciously vibrant flavors of live anti-oxidant ingredients for breakfast or snack, will leave you feeling refreshed and alkalinized. Young coconuts are high in B vitamins, while supporting nervous system balance. And it's EASY to open a coconut with my new Coco Jack!
Here's a quick breakfast to satisfy a sweet craving while providing high protein whole food nutrition. Even better, probiotics will keep your inner micro-biome running in top condition. Basically a chocolate banana coconut milkshake, I added my favorite probiotics.
It's a Green Bliss Smoothie! Imagine a creamy young coconut milkshake. Now add smooth avocado and uplifting matcha green tea. Then put in a handful of refreshing mint leaves and some lemon or lime juice. Now add a few Chlor-Oxygen green drops for energy. And blend. The result is indescribable green bliss!
Delicious, refreshing, detoxifying for breakfast or snack, grapefruit makes a great anti-oxidant smoothie. Even better, it's low-glycemic and tastes yummy with ginger. I enjoy the mild flavor of spinach, however any greens will do such as kale, chard, collards, dandelion, arugula, watercress, etc. Imagination and variety are my keys to making breakfast interesting, and this smoothie is a great way to start the day!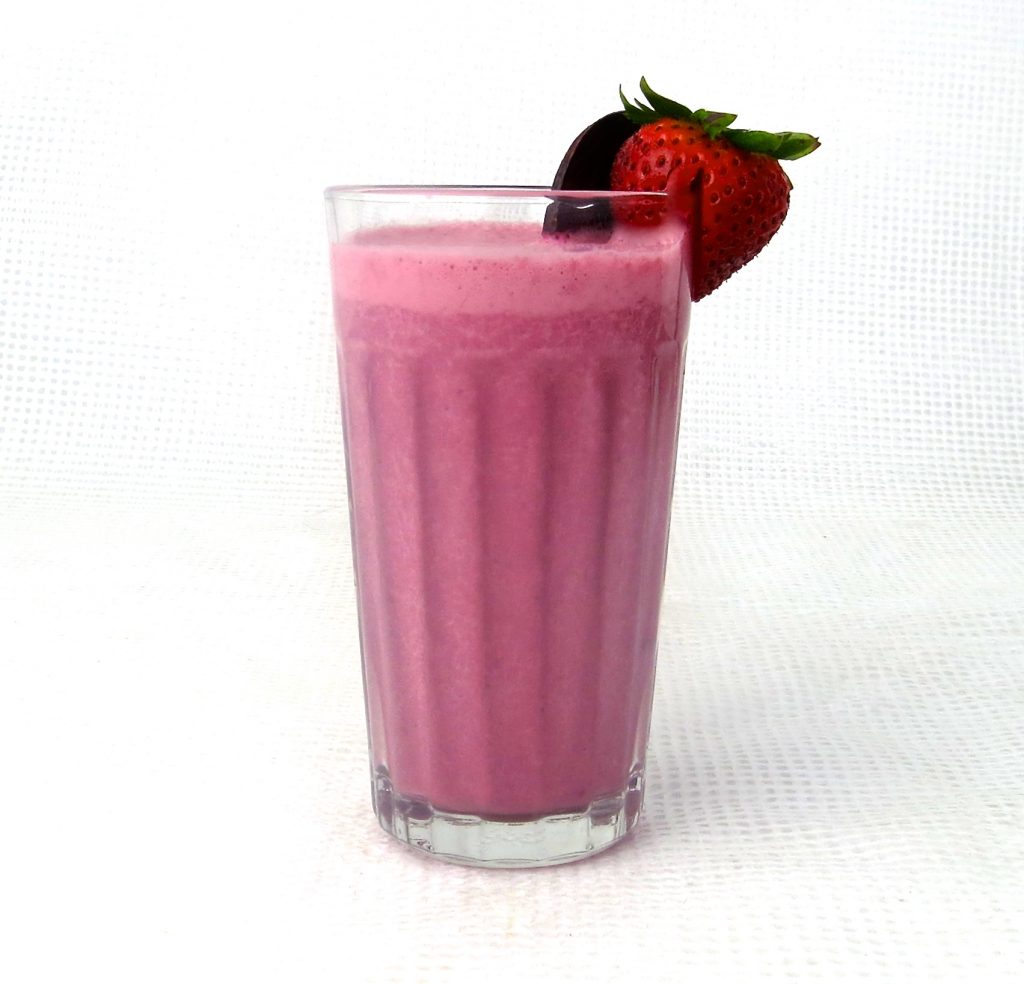 Today's smoothie turned out incredibly yummy! I was in the mood for something energizing, super-nourishing, rich, creamy, and anti-oxidant, with a bit of sweetness. Fresh strawberries were calling me, and a few minutes later I was enjoying my delicious shake! Strawberries are high in vitamin C, potassium, folic acid, and fiber.
Today's breakfast was a refreshing flavor treat of creamy, luscious papaya. I added tangerine, coconut milk, and strawberries for a WOW! Intensely luscious smoothie! Look for healthy organic or non-GMO papaya, as many papayas are genetically modified. This papaya milkshake tastes like the papaya "batidos" I used to buy on the streets in Mexico made with (uh oh!) sweetened evaporated milk and sugar! So you'll notice this recipe uses non-dairy milk and low sugar fruits.
Detoxifying and refreshing with a hint of sweet licorice, here's a great use for those feathery fennel greens. High in anti-oxidants, vitamin-C, and bioflavonoids, fennel's exotic flavor comes from the essential oil anethole, also found in anise and licorice. Fuji apples are pleasantly sweet, and relatively low in sugar, so this smoothie will be kind to your blood sugar.
Oh my, I had this for breakfast today! It's also a fantastic 1-minute snack. Blackberries are refreshing and loaded with anti-oxidant compounds. Protein powder gives this treat the holding power of a full meal. It was such a pretty color that I enhanced it with beet. Beets are a unique source of betaine, an anti-inflammatory food to improve circulation and protect against cancer. Anyway WOW! It was delicious!
Go green with a delicious healthy smoothie for breakfast. My day begins with a big tall one. Every morning it's a bit different, and I drink it before a workout, yoga or qigong. This basic recipe is loaded with vital nutrition and whole food flavor. I make sure I use tart fruits, which are low in sugars and carbs. It's important to avoid sweet fruits (those high in fructose), because who needs a blood sugar roller-coaster to start the day?
This invigorating, creamy milkshake is a great way to wake up! Matcha green tea powder is a potent superfood with polyphenols and anti-oxidant catechins that improve brain function, bring mental clarity, and boost your entire immune system. Well, I feel great now! Top quality Ceremonial Grade Matcha, will be the least bitter. Culinary Matcha is also excellent.