Expand your thinking around breakfast! Discover infinite possibilities for flavor and nutrition. Try these 13 best-loved quick breakfasts, the top picks from my original whole-food recipes. Break out of old habits into a new way to satisfy breakfast cravings for lasting energy!  When you need more ideas, find 165 yummy recipes in my cookbook Good Morning Paleo!  Here's today's breakfast line-up:
Chocolate Banana Nut Pile-Up,
Paleo Egg Foo Yong in 5 Minutes,
Probiotic Chocolate Banana Smoothie,
Cocoa-Nutty Paleo Granola,
Grapefruit, Greens, Ginger Smoothie,
Wild Salmon with Garlicky Greens,
Strawberry Beet Superfood Smoothie,
Scrambled Eggs Florentine,
Instant Primal Porridge,
Berry Parfait with Coconut Kefir,
Egg Drop Soup with Seaweed,
High-Protein Savory Herb Quinoa Waffles,
Best Paleo Breakfast Cookies.
This healthy breakfast-in-a-glass consists of bananas and nuts piled up together with an easy chocolate ganache. It's super quick to stir together, pile up in a glass and eat! Non-glycemic sweetener won't spike blood sugar or cause weight gain. Almonds are high in protein and fiber. Unsweetened chocolate contains anti-oxidants and theobromine, that improve cognitive brain function – um – unless it contains sugar. No equipment needed. Serves one. Read More.
Egg Foo Yong is a favorite 5-minute breakfast, lunch, or dinner, with optional meat. It's a great use for leftover veggies, and you won't miss the sticky-sweet sauce. Instead we drizzle it with toasted sesame oil and Liquid Coconut Aminos, which is a Paleo, non-GMO alternative to soy sauce. "Egg foo yong" means "hibiscus flower eggs," referring to the delicate texture and color of this dish. Read More.
This quick breakfast is loaded with high-protein Whole Foods, and probiotics to keep your inner micro-biome running in top condition. Basically a chocolate banana coconut milkshake, I added my favorite probiotics. BTW I drink my smoothies warm, never cold, for better nutrient absorption. So skip the ice, and enjoy warm smoothies which are deliciously creamy and comforting. I added 3 broad-spectrum probiotics to the blender. Enjoy this breakfast in 2 minutes flat. Read More
When I'm in a hurry, this quick granola saves the day! Loaded with nutrient dense seeds and crunchy nuts, it is gluten-free, Paleo, with tasty cocoa and cinnamon. I make this ahead and keep it on hand in the pantry. High in protein, low in sugar, it's a yummy breakfast with any nut milk. Or make your own with my easy Homemade Nut Milk. Commercial granola is loaded with sugars, however this recipe is extremely low in carbs. It will not raise blood sugar or cause weight gain if you use one of the suggested non-glycemic sweeteners. Keep it on hand and enjoy whenever you need a fast nutritious breakfast. Read More
Delicious, refreshing, detoxifying for breakfast or snack, grapefruit makes a great anti-oxidant smoothie. Even better, it's low-glycemic and tastes yummy with ginger. I enjoy the mild flavor of spinach, however any greens will do such as kale, chard, collards, dandelion, arugula, watercress, etc. Imagination and variety are my keys to making breakfast interesting, and this smoothie is a great way to start the day! Read More.
You can make this tasty, nutritious breakfast in 5 minutes flat. It's so easy! While the salmon steams, saute the greens, and serve! Use your favorite leafy greens, such as nutrient-dense kale, turnip greens, beet tops, chard, lentil sprouts, etc. For maximum minerals and Omega 3's, make sure your salmon is wild. Read More.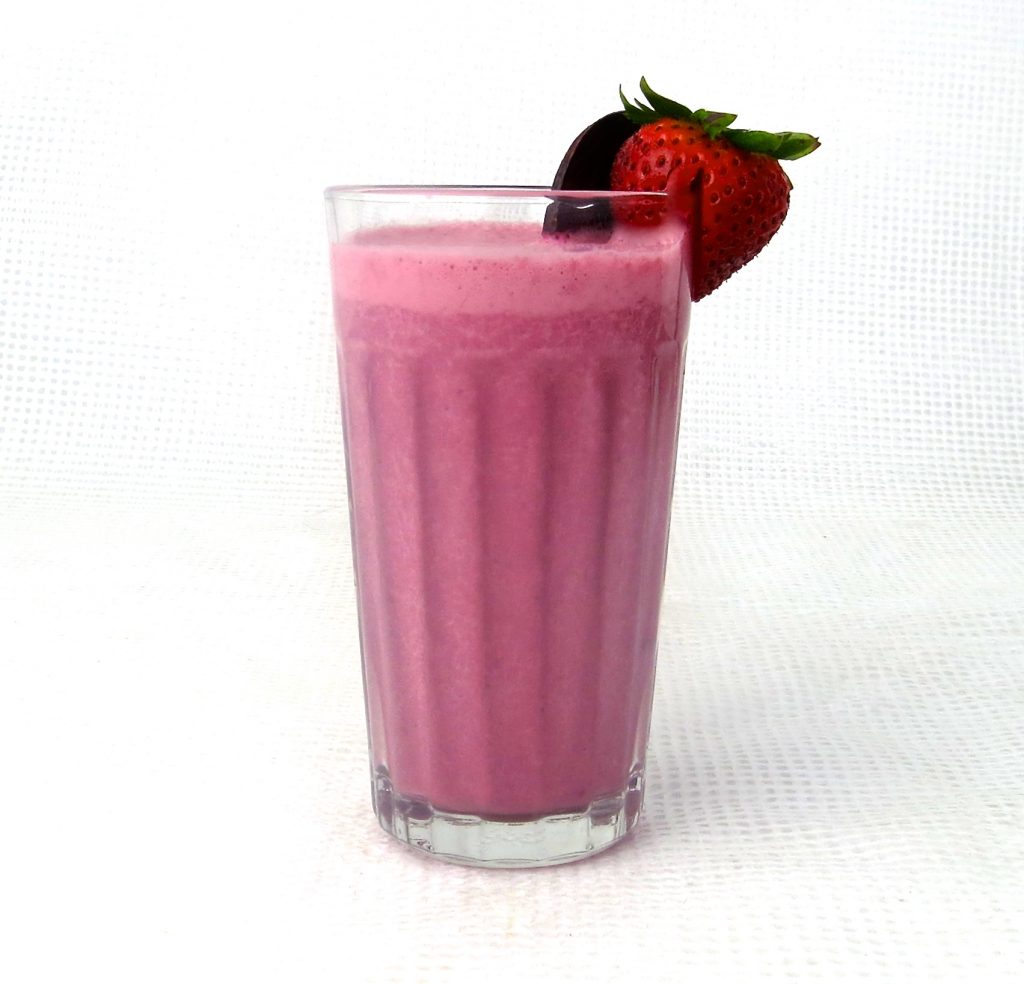 Today I was in the mood for something energizing, super-nourishing, rich, creamy, anti-oxidant, with a bit of sweetness. I had some strawberries on hand and a few minutes later I was enjoying my delicious shake! Strawberries are high in vitamin C, potassium, folic acid, and fiber. Read More.
Yum! Here's the easiest high-nutrient breakfast in town. Make it in 5 minutes! Eggs Florentine sounds fancy, but it's just eggs over wilted spinach. In Florence they poach their eggs, however you can prepare them any way you like. I love scrambled eggs because they're quicker, and it's easy to blend Paleo "Cream Cheese" right into them. Coconut butter and lemon tastes like cream cheese and sends the flavor right to the moon. It's fabulous! This is a super-quick breakfast. Try using 2 medium skillets, preferably non-stick. One pan is to scramble the eggs and the other to wilt the spinach. If you get them going at the same time, you'll have breakfast in 5 minutes! Read More.
If Grok could tell us his ideal breakfast, this would be it! (Grok is the mythical Paleolithic strong-man whose diet we'd like to mimic.) Primal Porridge is a whole-food, delicious meal for people on the go, much quicker than oatmeal, and infinitely higher in nutrients than any packaged cereal. The flavor is creamy, rich and sweet, with a pleasant texture. If you have 1 minute in the evening and 3 minutes in the morning, this high-protein, low-carb, breakfast will leave you feeling totally nourished. Instead of grains it uses nuts with alternative milk and low-sugar fruit. Read More.
For a quick breakfast or a snack, there's nothing like a creamy parfait. Use your favorite berries – today I used blueberries, raspberries and black elderberries. This is yummy with Easy Homemade Coconut Yogurt, coconut kefir or goat yogurt.Kefir and yogurt are easy to assimilate, as the proteins are mostly digested by healthy bacteria. I added a dash of vanilla and optional sweetener. Today I used sprouted, toasted organic almonds. This is an easy breakfast or snack. Read More.
Egg Drop Soup for breakfast? Yep, you can buy it on the street in Shanghai and Taiwan. It's often full of MSG, gluten, preservatives, GMO soy, and cornstarch. Here's a delicious traditional Chinese recipe that you can make in minutes, with all natural (and Paleo) ingredients. Make it Vegan, or add chicken or shrimp. Traditional optional ingredients are peas, chard, and seaweed. Hijiki or Wakame seaweeds are my favorites, as they add rich flavor and nutrition. Read More.
Where can you find fluffy, high-protein, low-carb, flourless, gluten-free, grain-free, waffles? In less than 15 minutes? Yesss! I was craving waffles today, and tired of sticky-sweet breakfasts. Quinoa is a tasty ancient Incan superfood. Even better, it's a complete protein! If you have a blender, this recipe will go very fast, so make sure your waffle-maker is hot and ready before you blend. Read More.
High-protein, low-carb, and filled with whole-food Paleo nutrition, these big scrumptious crunchy cookies are a great grab-and-go breakfast or snack. Make these ahead and freeze for a rainy day. A surprise ingredient is green banana, known to be low in sugars and carbs and high in resistant starch, which helps to cultivate healthy intestinal flora. This recipe makes 20 giant cookies. Read More.